Description
The Cone Plug is a versatile little design. It can be used to plug a range of hole sizes. Due to the hollow design it can be pulled through holes to give a seal on both ends. Also the Cone Plug can be used as a cap. The flange offers a useful round mask that can be useful on pivot points and electrical connections.
Cost efficient
Plug or cap use
Circular head can be optionally used
Fits a variety of sizes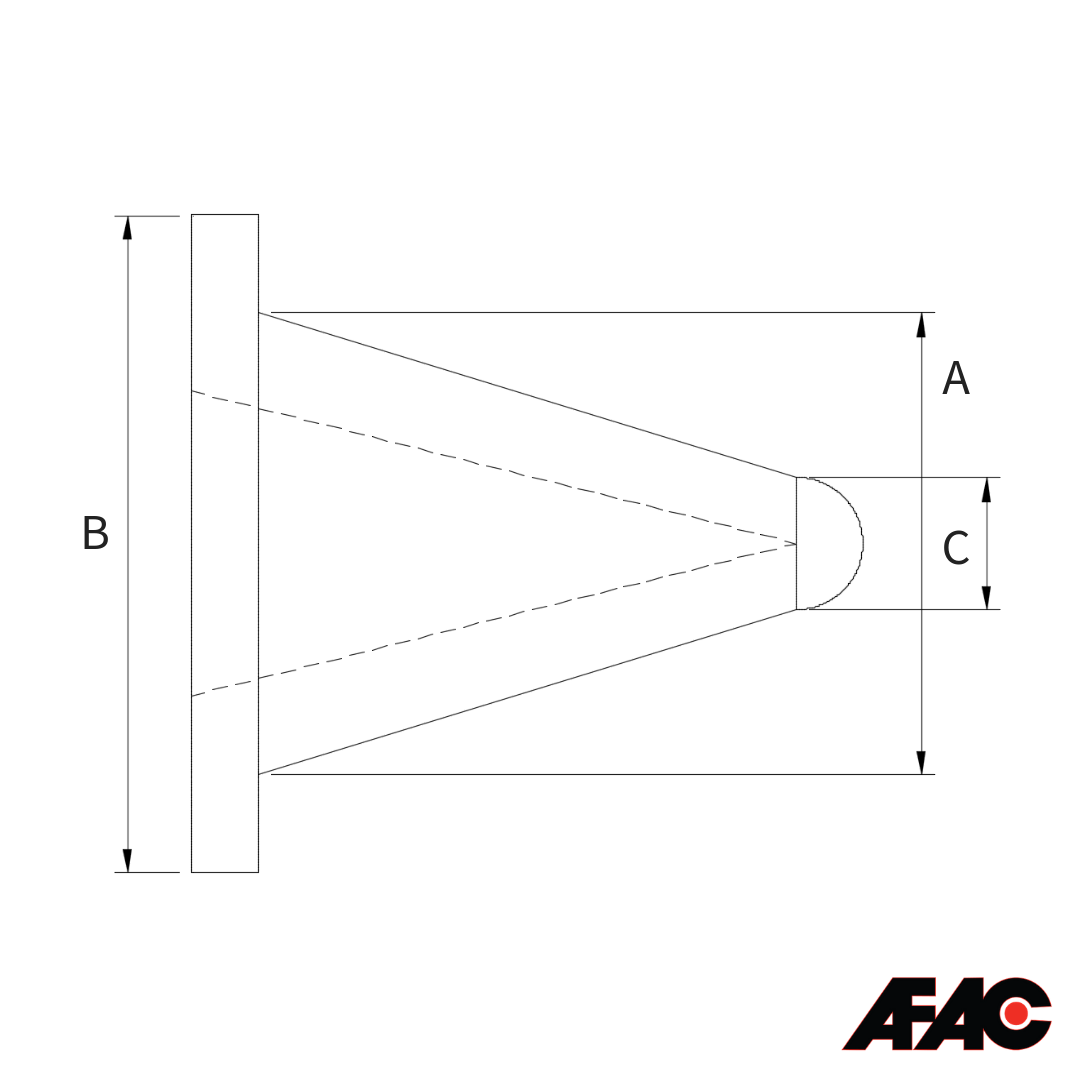 Part No
'A' mm
'B' mm
'C' Length
Colour
Weight
Column 6
CO-06.3-12.5-CL
6.35
12.70
23.01
3.30
Clear
0.60g

£0.07Read more

CO-08.0-12.7-BN
8.03
12.70
25.40
5.49
Brown
0.78g
CO-08.5-15.9-YW
8.51
15.88
25.40
4.50
Yellow
1.40g
CO-10.0-16.5-BN
10.01
16.51
27.99
5.00
Brown
1.52g
CO-10.1-16.5-BN
10.16
16.13
27.94
5.84
Clear
1.83g
CO-14.0-19.0-BK
14.00
19.05
35.99
8.00
Black
3.93g

£0.14Read more

CO-17.5-24.9-GN
17.50
24.89
38.10
11.51
Green
5.95g

£0.18Read more

CO-19.5-28.0-RD
19.48
27.94
51.03
13.51
Red
8.43g

£0.20Read more

CO-20.8-25.4-BL
20.80
25.40
49.00
14.81
Blue
8.53g

£0.21Read more

CO-22.0-31.0-LL
22.00
30.99
53.01
16.00
Lilac
10.46g

£0.22Read more
The Cone Plug or BAKEWELL CONECAPS are either pushed into the hole, or can be forced into holes using an installation tool or radiused ended rod. Using the latter technique, a better seal will result at both ends of the hole. They are removed by pulling on the flange. The Cone Plug can also be used as a cap by twisting onto the protrusion to be masked. Great for pivot points.
BAKEWELL CONECAPS will withstand temperature of up to 315 degrees C and is reusable time and time again.
The Cone Plug range is colour coded for ease of identification and are available to fit holes from 5mm to 22mm diameter.
AFAC has supplied masking products to the metal finishing industry since the mid 1980s. As one of the originating companies in the UK to supply high temperature masking supplies, AFAC has developed its own lines of devices that complement the generic ranges also available.
With millions of parts on the shelf, AFAC offers customers a variety of choices to suit most masking applications. As well as the stock lines, AFAC also produces custom made mouldings, extrusions and self adhesive shapes. With customers all over the country and around the World, AFAC can be relied on to deliver quality products at affordable prices for any size of business.