160°c Crepe Paper Masking Tape
Description: 
Specialty High Temperature Masking Tape  is a buff coloured crepe paper coated with a rubber adhesive suitable for use up to 160°c.
Applications:
Masking in paint stove cycles incorporating temperatures in excess of 160 °C.
Wet Spray masking.
Masking a variety of metals including polished and anodised aluminium, chemically etched steel, passivated cadmium, magnesium, various types of copper containing alloys and brass.
Product Benefits:
Removes cleanly after use.
Excellent conformability and flexible qualities for intricate masking requirements.
Excellent adhesion to a wide variety of substrates.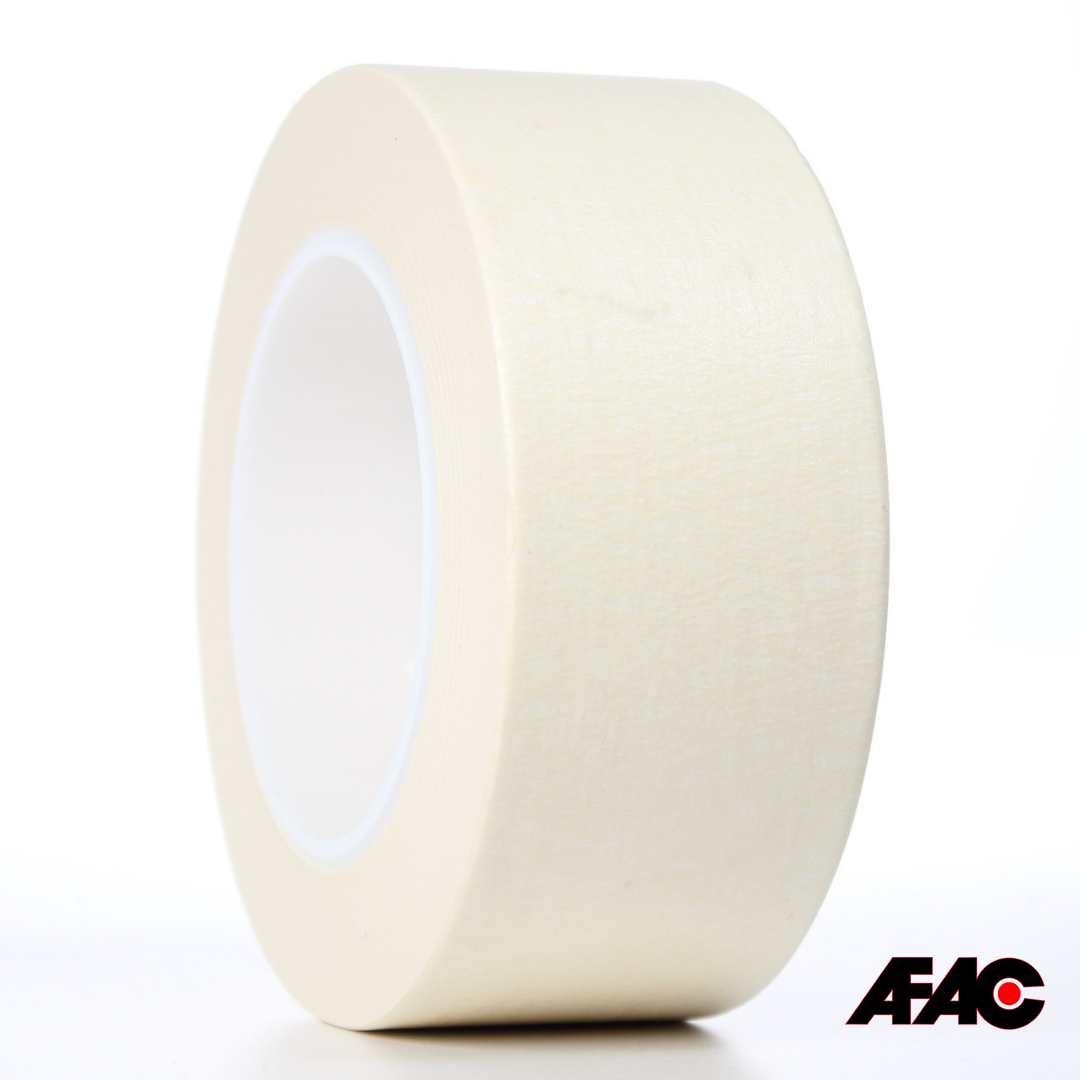 Key Features:
Suitable for Infrared / UV curing and bake cycles.
Excellent solvent and moisture resistance.
Crepe paper backing for conformability that will maintain integrity when formed around corners.
Backing saturated for easy tear – resists slivering yet hand tearable.
Rubber adhesive with instant adhesion.
Good holding power that resists lifting or curling and helps reduce rework.
Special backsize treatment controls unwind and helps reduce waste.
Designed for indoor use only. Tape should not be subjected to outdoor exposure or prolonged periods of sunlight as product may become very difficult to remove.
Physical Properties

| | |
| --- | --- |
| Adhesive Type | Rubber |
| Backing Type | Crepe Paper |
| Tape Colour | Buff |
Performance Characteristics
| | |
| --- | --- |
| Adhesion power | >15h |
| Tensile Strength | >28KN/M |
| Initial Tack | >10# (ball test) |
| Thickness | 0.180mm +/-5 micron |
| Temperature Performance | 160 °C for 30 mins |
Storage: Store in clean dry place. Temperature of 21 °C and 50 percent relative humidity are recommended.
Shelf Life: 160°c Crepe Paper Masking Tape as a shelf life of 12 months from date of dispatch when stored in the original packaging at 21°C & 50% Relative Humidity.
Values presented have been determined by standard test methods and are average values not to be used for specification purposes. Our recommendations on the use of our products are based on tests believed to be reliable but we would ask that you conduct your own tests to determine their suitability for your applications. This is because we cannot accept any responsibility or liability direct or consequential for loss or damage caused as a result of our recommendations.